"Our clothes are 100% brand-named and it's difficult to create a brand." Said a number of clothing companies that participated in the 110th Canton Fair to tell reporters about brand building. At present, domestic companies have their own brands, and the lack of brands has caused Chinese clothing export companies to suffer a lot.

Mr. Zhang, a business manager of a clothing company in Quanzhou, Fujian Province, told reporters that because he does not have his own brand, companies basically rely on low processing fees to survive. Especially now that costs have risen sharply, profit margins have been pushed down even further.

Qian Yang, the business manager of Jiangsu Huihong International Textile and Garment Department, used slitting to describe the current status of foreign trade companies. Because there is no independent brand and production line, they can only maintain up to 15% of the profits, and in the foreign offer, Qian Yang to the salesman to subtract the 15%, "Otherwise, foreigners will turn and go."

Qian Yang said that the current garment enterprises have entered the late autumn before the winter. Mr. Zhang pointed out that local clothing enterprises before the year of 2006 in Quanzhou are still very few. In the past few years, there are four or five thousand clothing companies. The resulting homogenization competition among enterprises is fierce. The reporter was informed that companies in Hebei, Jiangxi and other places also felt the same pressure. "We have been considering exploring brand building, but it is not easy to really do it." Zhang Jiming, general manager of Hebei Liyou Garment Group Co., Ltd., shook his head and exclaimed: "There are hundreds of thousands of garment companies in the country, but there are three or five independent brands. In fact, many companies have already realized the brand power in the fierce competition, but they have been unable to embark on the brand road because of various helpless factors."

Xiongyue Yuan, business manager of Ningbo Huayi Garment Co., Ltd. believes that SMEs must spend a great deal of effort on foreign brands, investments, and channels, and they have to face heavy operational difficulties. In addition, the cost of brand building has also made many companies hesitant. Xiongyue Yuanyuan said: "To build a brand, equipment, production lines, etc. need to be updated, personnel must also 'change blood'. Therefore, companies can only consider more to ensure production, do a good job in front of the list, to make great changes really have more than enough power insufficient."

In spite of this, the company's exploration of apparel brand building has been on the road. Qian Yang believes that companies need to have more room for development in order to have a group. Although small businesses are small, the power behind agglomeration and integration cannot be ignored. The China Textile City, located in Wuxi, Jiangsu, has gathered all kinds of textile and apparel fabrics, home textiles and industrial textiles. Through the agglomeration effect formed by the accumulation of enterprises, China Textile City has become the world's largest textile distribution center. Zhou Rusheng, director of the China Textile Industry Committee, told reporters that although China Textile City's apparel orders are decreasing, orders for light textile products are increasing. The volume of orders for the first three quarters of this year has been the same as last year.

Dongshang Garment Co., Ltd., which already owns brands such as SNOWIMAGE and VLASTA, has a retail network distributed in more than 20 countries and regions. Its distribution network in Russia and Eastern Europe reaches more than 1,000. Zhou Zhihai, director of the company's director and overseas business division, stated that the company's sales of high-quality down jackets through stores and other channels have initially established the image of Chinese apparel companies in Eastern European countries. The next step is to open more brand monopoly abroad. The sales volume of stores and planned stores should reach 70% to 80% of the total sales volume of the company. Zhou Zhihai believes that the store not only represents the image of the company itself, but also can most directly shape the image of the mother brand in China. The creation of the overall brand image in China will in turn benefit every Chinese company.

Zhang Xinqin, professor of the China Academy of Art and director of the clothing structure and crafts department, pointed out in an interview with this reporter that the creation of a brand requires first correcting values ​​and creating a clothing brand with a pure heart. Zhang Xinke also believes that companies do not care about the size, there is the possibility of creating a brand. "Apparel companies must treat the core and essence of clothing purely, such as pursuing fashion and quality, not sloppy, not falsified, and only on these basis can it be possible to build a brand." He said.


Scarves in the era of our emperor Chiyou, is that those skins were hunted, as prizes issued to those who are worthy of people, that is, the initial scarf of this product not only for the emergence of the physiological needs of warmth, but a Kind of spiritual comfort. Today's scarves have become all human needs, people in cold areas use it to cold and cold, people in the desert use it to prevent wind and sand, where people do not have scarves scarves, the original is to dress up the United States. So it has become an indispensable necessity for everyone in the world.

With the development of the times, scarves have been infused into the elements of different cultures all over the world, becoming different materials and different forms appear in our lives. Such as: strip, triangle, square, etc .; wool material, chiffon material, silk material, linen cloth, fabric. As a civilized product of China, silk was exported overseas long ago. Hardworking Chinese made many products using traditional handicraft silk, including embroidered scarves. Aishe embroidery as a folk technology industry, we have pure hand embroidery, embroidery silk scarf, it is to the extreme development. Embroidered twins with different embroidery habits, scarves inlaid with different patterns, it seems that each of our products are full of charm, coupled with silk is a natural animal protein fibers, smooth and soft, shiny, with warm winter Cool feeling; but also effectively to avoid sandstorms. Silk scarves are expensive fashion items, but also a gift of high-level gifts. Mrs. Peng Liyuan, the wife of Chairman Xi, also often wears embroidered scarves and gives it to some visiting guests as a gift.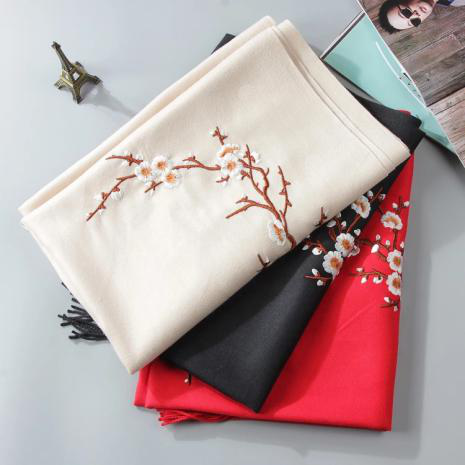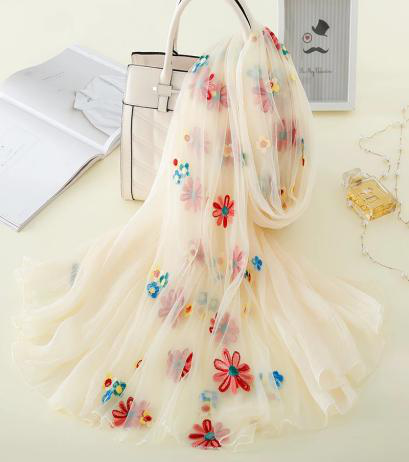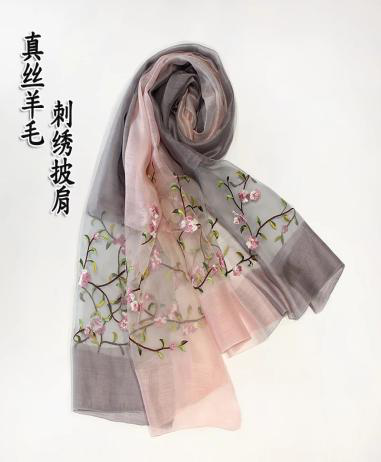 Hand Embroidered Scarves,Big Size Hand Embroidered Scarves,Long Hand Embroidered Scarves,Lady Hand Embroidered Scarves
Haiyuan Aisha Handicrafts Company Limted , http://www.aishaembroidery.com